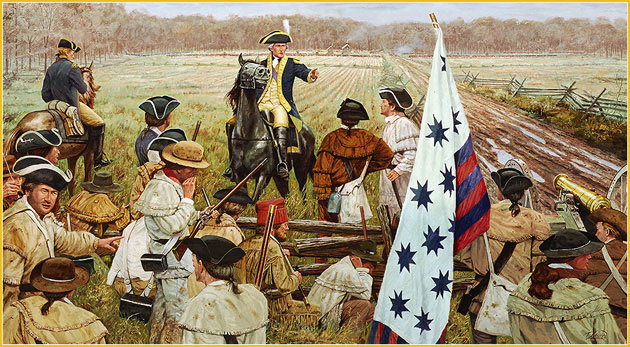 Greene at Guilford Courthouse
Original Artist Proof or Print
Artist: D. Gallon
Image Size: 14 ¾" x 26 ¾"
In this painting General Greene Gives orders to the North Carolina Militia; "Two rounds boys and then you may fall back. Fire two volleys and retreat" Greene was to depend on his second and third lines of Virginias, Marylanders and Continentals to take on the British.
While Guilford Courthouse was a British victory ,Greene's army was not destroyed but the British suffered heavy losses. General Cornwallis had to abandon North Carolina for the siege lines at Yorktown. Virginia  and final humiliating defeat.
About The Artist
D. Gallon is a graduate of the Art Center College of Design in Los Angles, California and taught illustration at Long Beach State University. He has created historically significant paintings focused on the American Civil War as well as the acclaimed series on the Revolutionary War Battle of Guilford Courthouse offered here — Turning Point at Guilford, Hoskins House and Greene at Guilford Courthouse — Owning one of these prints or Artist Proofs can become a family heirloom and contribute to the understanding of our War for Independence. Order your choice of these historic visions of the battle that was the turning point of the Revolutionary War.